Disclosure: As a participant in affiliate prograrms, we earn from qualifying purchases made on our website. If you make a purchase through links from this website, we may get a small share of the sale from these affiliate programs. You can read our complete
disclaimer
for more details.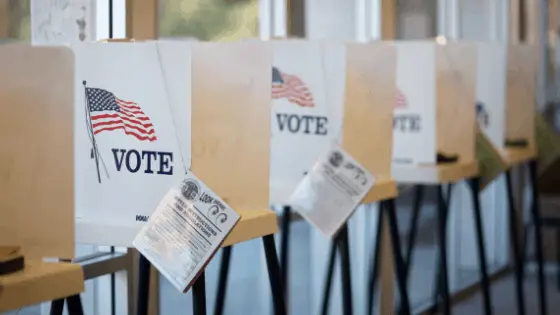 Note: This post is updated periodically.
---
U.S. presidential primaries can be confusing affairs. So, here's a quick reference guide.
The presidential primary is the process for voters to indicate which candidate in their political party they would like to run for president. The process varies by state and can be done by direct voting or by choosing a delegate. The final choice is made at the presidential nominating convention.
Each party holds a separate nominating convention which usually takes place the summer before an election. Once the candidate is chosen, the presidential election process begins.
Below is more information about the various systems of primary elections, trustworthy polls to watch, and ways to get involved. 
Voting Systems for Presidential Primaries by State and Territory
Here is a quick reference for each state and territory's voting system. For exact voting rules, contact your local voting officials by following the links provided.
In general, the various primary systems can be broadly categorized under the following systems:
Closed: only registered party members can vote.

Open: voters may vote in any primary they choose (states with this system typically don't require voters to choose a party when registering; hence, all voters are de facto unaffiliated).

Partially closed: party members choose before every election whether to allow unaffiliated voters.

Partially open: voters can vote across party lines (e.g. Republicans can vote in Democratic primaries. Note that states with this system typically require voters to declare or change party registration if voting in another party's election).

Open to unaffiliated voters: voters unaffiliated with any party may choose to vote in one party's primary.

Top-two primaries: all candidates are listed on a common ballot and the top two selected candidates face off in the general election regardless of party.
Trustworthy Polls to Watch for Presidential Primaries
As we saw in the 2016 election, even the most reputable of polling firms can get it wrong sometimes. Many may be skeptical of polling data as a result and that's probably a good thing overall. 
Voters should always be cautious of polls and should compare data across polls from different agencies for a better picture of public opinion. 
Having collected data at one point myself, I can sympathize with pollsters; they face many very difficult challenges in obtaining up-to-date information. 
One major hurdle is simply harvesting all that data and keeping current on the opinions of a large random sample of the general population. Not only do firms need to reach these people consistently, but they also need to record these people's opinions on current political trends. 
Just think of the logistics! 
Collecting up-to-date opinions on presidential candidates from working adults with busy lives is difficult.
Firms solve these logistical issues in several ways. However, in doing so, some polls, while perhaps meaning well, don't always meet certain standards that can feed false data into the public discourse. 
At other times, polls may be presented incompletely to voters. For example, pundits or pollsters may fail to mention assumptions, margins of error, and other important factors.
All this being said, polls can still be very helpful tools in gauging the current political trends and there are several reputable polling firms. 
Street Civics recommends getting started with the three reliable sites below for up-to-date polls on presidential primaries. 
Morning Consult is a perfect first stop for poll watchers. The firm is a private technology and media company that started in 2013 and has since established itself as a solid source of data. 
For the 2020 Democratic primaries, the site provides updates every Monday and reports to be gathering 5,000 opinions a day.
That's incredible.
5,000!
A day! 
The information is very easy to understand and will give voters a solid first glance at reliable data.
Keep in mind that Morning Consult is a single polling firm. While they are reputable, basing the analysis on many data sets would give us stronger predictive power. 
To get a deeper look at the data, continue to the next suggestions.
Real Clear Politics was established in 2000 as a political news and polling data aggregator. The site has become a standard bookmark for most poll watchers because it provides a useful one-stop-shop of the latest polls (among other things).
The site's format reads like a real-time polling ticker (or as close as one can get anyway). Readers will get a good sense of the latest trends and be exposed to several polling sources.
Watching polls in real-time is useful in developing a sense of public opinion. However, if we want even stronger predictive power we have to go to our next recommendation.
FiveThirtyEight is Nate Silver's project that collects and analyzes data on everything from sports and health to economics and politics. 
As a reminder, Silver is a statistician, writer, and all-around genius. He famously correctly predicted the 2012 presidential outcomes in every state and the District of Columbia. 
However, he is human, and his model incorrectly predicted the results of the 2016 election. Nonetheless, Silver is a gifted statistician who has better predictive power than the average bear. So, his analysis provides solid reference points. 
If you need more analysis and a deeper look at the numbers, FiveThirtyEight is a great place to start.
Ways to Get Involved in Presidential Primaries
1) Become an election volunteer/poll worker
Volunteering as a poll worker on Election Day means you can help tally votes and ensure the elections go smoothly in your area. Being a poll worker is a neutral way of supporting elections and it can be an exciting way to engage your community.
To become a poll worker you'll need to find out if you're eligible and, if you are, you will need to register with your local officials. 
You can contact your state or territory's officials via the links provided in Section 3 above. Or, find your local officials using the U.S. Election Assistance Commission.
2) Volunteer with a candidate or a political party
If you have a favorite candidate, you might want to consider volunteering for their campaign. If, however, you can't decide but just want to help your political party overall, consider volunteering directly with a political party. 
You can find more information on how to volunteer both with candidates as well as political parties here.

3) Partner with National Voter Registration Day
National Voter Registration Day is a holiday to celebrate voting in hopes of inspiring eligible voters to register. There is always a need to get people registered and it takes little effort on the part of volunteers. 
National Voter Registration Day has a variety of ways for groups and individuals to partner for the event. The day is the single biggest day of the year for voter registrations; the coordinators have impressive reach. 
If you're short on time but still want to get involved, helping out this one day is a great way to make a big difference with little effort. Participating in big actions like the National Voter Registration Day are great ways for individuals to maximize the impact of their involvement.
4) Register voters with nonprofit organizations
Another way to register voters is by volunteering with any number of nonprofits that register people on an ongoing basis. If you have a few spare hours a week and want to get involved, consider looking through HeadCount's list of nonprofits that register voters.
5) Become a delegate
For those with a long-term outlook, you might consider becoming more involved in your local party politics. Even if you're not aiming to be president, local officials have big impacts. And even just general membership is a great way to stay involved in the issues you care about.
If you have a knack for community engagement, you might consider trying to become a delegate or seek more responsibility at the local party level. While there is not necessarily a set formula to becoming a delegate, wikiHow does an excellent job of demystifying the process.
---
Thinking about volunteering? Check out our post The Impact of Political Volunteers (& How to Have a Positive Impact) for more.